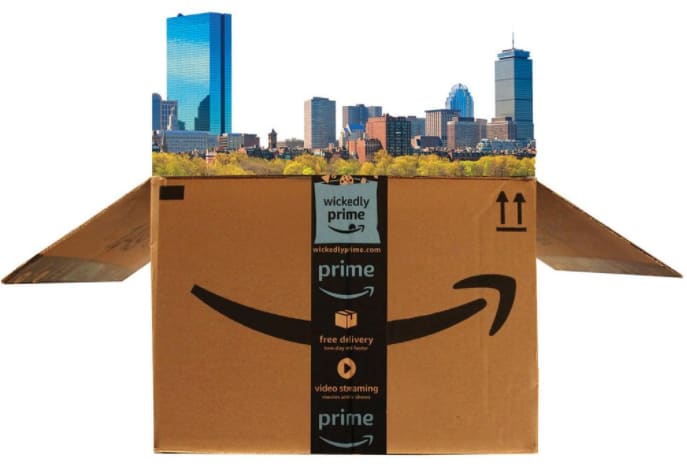 Amazon has narrowed its list of potential cities for its second headquarters to 20. The District, Montgomery County and Northern Virginia were all named separately.

If Amazon.com Inc. chooses the D.C. area for its second headquarters, the $5 billion projects would certainly impact residential rents, but not as much as in other metros that made the company's short list.
A study by San Francisco-based Apartment List says rents in Greater Washington would rise between 0.3 percent and 0.5 percent annually, on top of annual rent growth of 4.2 percent between 2005 and 2015 — the latest figures available. D.C.-area renters could expect to pay an additional $3,750 to $5,757 per year over a decade for an apartment with a rent of $1,753, the median as of August 2017 for the D.C. metro. area, which includes Northern Virginia and Montgomery County.
Apartment List didn't specify a bedroom size in its data.
The District, Montgomery County and Northern Virginia were all named separately to Amazon's HQ2 shortlist last week.
But the D.C. area wouldn't see as large an impact as smaller metros like Raleigh, North Carolina, where rental costs would rise up to 2 percent a year if chosen for HQ2, according to the Apartment List study. Additional rental costs over a decade in Raleigh for an apartment with a rent of $1,113 would be between $11,756 and $15,356.
To predict the impact of Amazon HQ2 on rent growth, Apartment List used the projected size and earnings of the expanded workforce, as well as the amount of new housing that each city is expected to produce. It took into account the ratio of net jobs added to new housing units permitted each year, on average, from 2005 to 2015, and then calculated what the ratio would be if Amazon added 50,000 workers and 62,500 supplementary workers over a 10-year period.
The D.C. area wouldn't see as much of an impact because the region is a pricier housing market, to begin with, said Sydney Bennet, a senior research associate with Apartment List. It's also a large metro area that is seeing more job growth and construction than smaller cities with less expensive housing.
William Rich, president of Delta Associates in D.C., said he agrees that rents would not increase in Greater Washington as much as in other regions partly because the rental market is significantly larger already and partly because HQ2 will be built out over several years.
"It will be a phased entry into the market for Amazon; they are not going to bring all 50,000 jobs at once," he said.
Rich added that metro-wide, the D.C. rental market has been experiencing several years of below average rental growth due to an increasing supply of apartments, especially around Nationals Park and NoMa. "That continues in those two areas, which has helped to bring up the vacancy rates," he said.
Even so, the apartment absorption rate "remains strong" in the region, he said. Rich added that D.C. metro area renters have absorbed more than 10,000 apartments annually over the past three or four years. That's well above the long-term average in which the absorption rate has typically been 7,000 units per year.
The presence of HQ2 would also likely mean continued price appreciation for the D.C. area's rental and for-sale housing market, said Timur Loynab, a principal with D.C.-based CondoNest, a division of McWilliams Ballard.
"Amazon coming here is a big deal because it solidifies and reinforces the idea that we have a booming local economy," Loynab said. "Even the speculation of it is a good thing for the housing market. It means our region is a sought-after place for business."