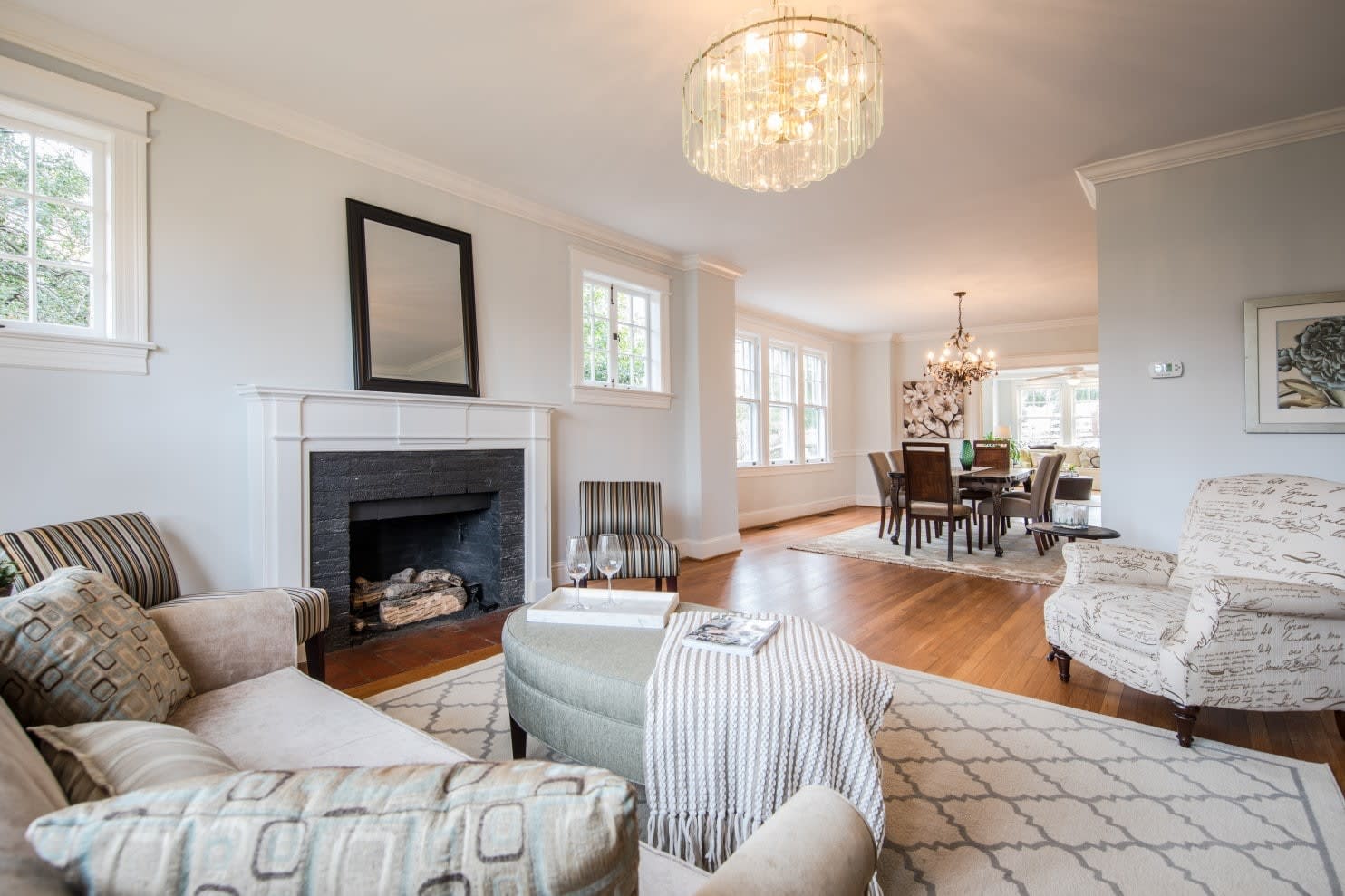 The four-bedroom, five-bathroom house at 3430 34th Pl. NW in Washington is listing for $2.5 million. (By Chris Mills)

The four-bedroom, five-bathroom house at 3430 34th Pl. NW in Washington is listing for $2.5 million. (By Chris Mills)
Something a little unusual is happening in the nation's capital, and it's not just heightened levels of political bickering and occasional threats of government shutdowns. Instead of following the typical rules of supply and demand, which indicate that prices rise when demand is high and supply is short, home values in the city are staying relatively flat.
"Inventory in the city continues to be very tight, but compared to the rest of the country, price appreciation is moderate," says Andrew Strauch, vice president of Bright MLS in Rockville, Md.
In February, prices in the District were 2.6 percent higher than in February 2017, according to Bright. Home prices were up 5.9 percent nationally in February of this year, compared with February 2017, according to the National Association of Realtors®.
Moderating price increases can be a boon to buyers.
"The D.C. region has consistently been one of the most stable housing markets in the country," says Nela Richardson, chief economist of Redfin real estate brokerage in Washington.
"Politics may not always be stable here, but property values are."
Despite concern about the potential impact of tax reform on the local housing market, there's no evidence yet that buyers or sellers are shifting their priorities or their housing budget, Strauch said.
Seller's market, but buyers gaining power
The spring market, which essentially starts in early February, says Timur Loynab, principal of Condo Nest with McWilliams Ballard in Washington, has been robust but also a bit strange.
"For several years, the D.C. market has favored sellers because of demand and the lack of inventory, but this spring we're finally seeing buyers pushing back," Loynab said. "Buyers are turned off by aggressive pricing, and we're seeing properties that are priced too high languish on the market."
Although buyers don't have a lot of leverage for negotiating prices before a contract is signed in this tight housing market, Richardson said, Redfin agents are beginning to see buyers win more negotiations over repairs after a home inspection.
"D.C. has loosened its belt a notch, but it's still a seller's market," Richardson said. "But sellers don't want the 'Scarlet A' of having to put their house back on the market. It's like blood in the water for buyers if they see that a house has been relisted, so they're willing to make concessions on repairs."
Some sellers and their agents try to encourage bidding wars rather than overprice their property.
"The more strategic agents and developers are starting to price properties slightly under or at market prices to allow for the market to organically push up the sales price," Loynab said.
"When people see 30 other buyers at an open house, they'll make no-contingency offers with escalation clauses, but places that are priced too high to begin with are sitting on the market."
The desirability of living in the city means that demand is still high, especially for new or newly renovated houses and condos.
"Buyers will pay a significant premium for new construction," says Erich Cabe, a senior vice president with Compass real estate brokerage in Washington. "Buyers are very visual, and so they look at Houzz and other websites and want their home to look like that. They are willing to pay a premium for new construction, plus they don't have the cash or the time for renovations."
A limited number of homes for sale
Although there appeared to be some new supply of homes for sale in the fall and earlier in the winter, those listings were purchased quickly, Strauch said. The inventory of active listings was down 13 percent in February, compared with February 2017. The number of detached single-family homes for sale was down 31 percent in February compared to February 2017, and the number of condos, co-ops and townhouses in the city was down 10 percent during that same period, according to Bright.
One indication of the lack of homes for sale is how quickly properties sell. The average number of days a property was on the market among February sales was 18, Bright said, the same as in February 2017.
Redfin agents reported that 72 percent of their listings that sold had multiple offers and bidding wars among buyers, Richardson said.
"Competition is especially heated in Northwest D.C. in neighborhoods like Chevy Chase and Cleveland Park, in the $1 million to $1.3 million range," Richardson said.
Houses in the District priced above $3 million take longer to sell, but, Cabe said, properties priced between $2 million and $3 million sell quickly, as long as they are in a desirable neighborhood.
On the more affordable end of the market, too, competition is high, Loynab said. He says one-bedroom units priced under $500,000 are always the first to sell in any new condo.
New construction, which can provide relief to inventory woes, is anticipated over the next two years in Dupont Circle and around Truxton Circle on the outskirts of Shaw, Loynab said. For example, Chapman Stables in Truxton Circle is a 110-unit condo with prices from $300,000s to more than $1 million.
"There's been a resurgence of development in the past few years in the city because of population growth and high demand, which I expect to continue in the next few years," Loynab said.
Popular neighborhoods for buyers
Young, affluent buyers want to be in Cleveland Park or Forest Hills or to live downtown in a walkable neighborhood, Cabe said.
"Buyers who are looking to buy into the next neighborhood where prices will rise can look at where developers are grabbing lots, such as Truxton Circle, Anacostia, and Hill East," Cabe said.
Buyers looking for affordability have seen prices rise in recent years in neighborhoods that were once considered less desirable than hot spots such as Logan Circle and Shaw.
"Buyers will see lots of competition for homes in Anacostia, North Petworth, and Brightwood," Richardson said. "Eckington and Edgewood in Northeast are still really hot neighborhoods, too."
As the spring market heads into summer, Strauch said, he hopes additional properties will be listed for sale to meet buyer demand in the city.